Cassius Clay Vs Henry Cooper, 1963, Official Ticket And Fight Program
Cassius Clay Vs Henry Cooper, 1963, Official Ticket And Fight Program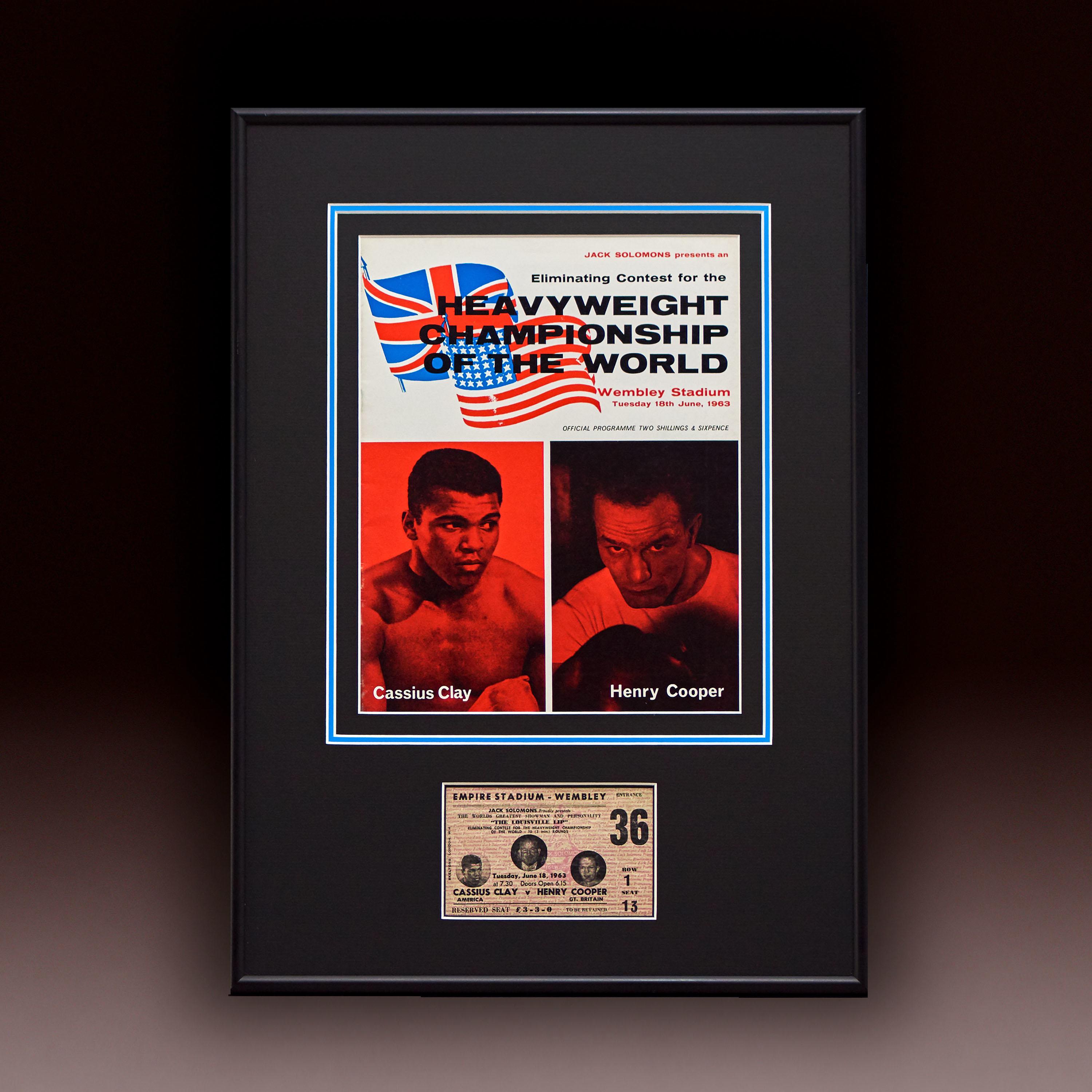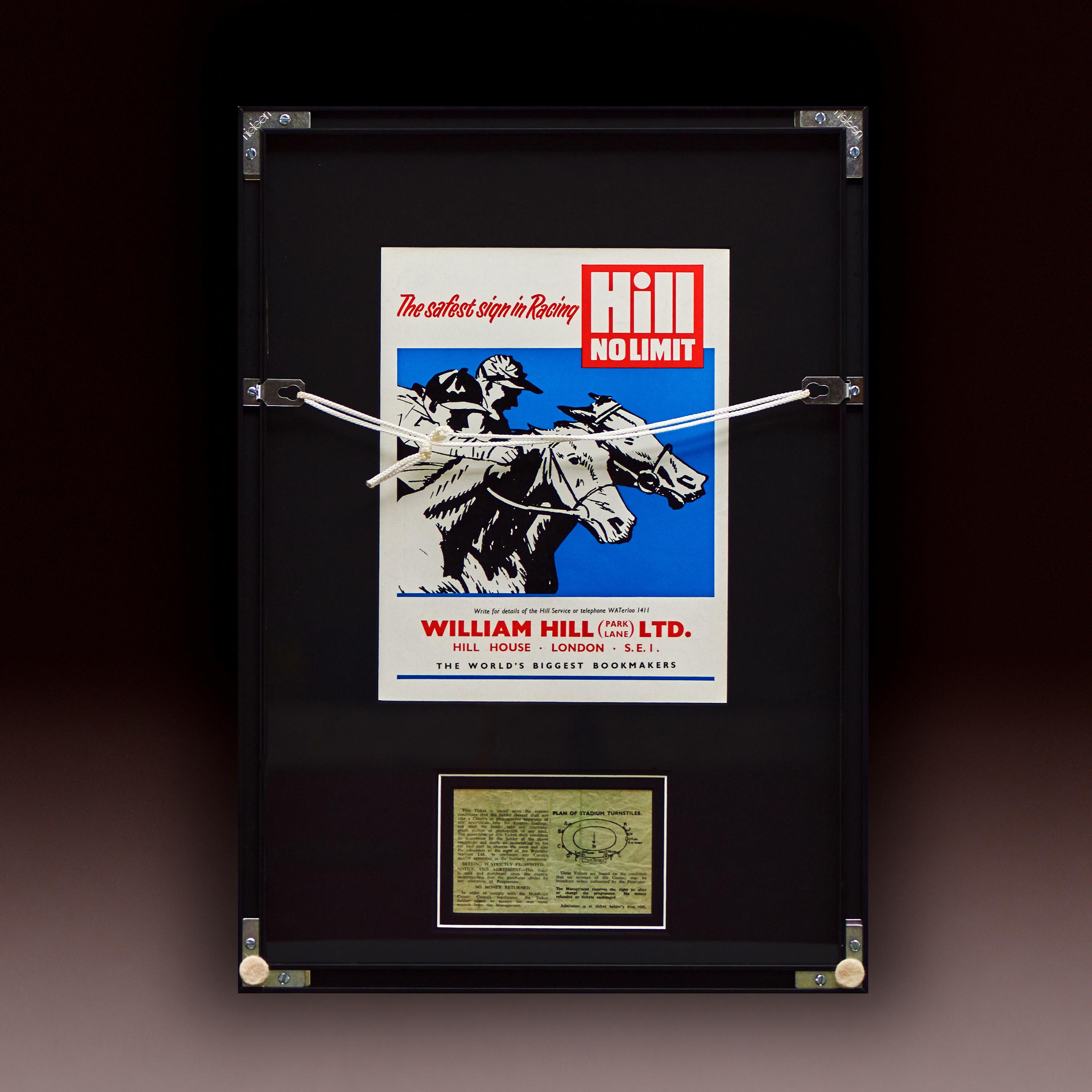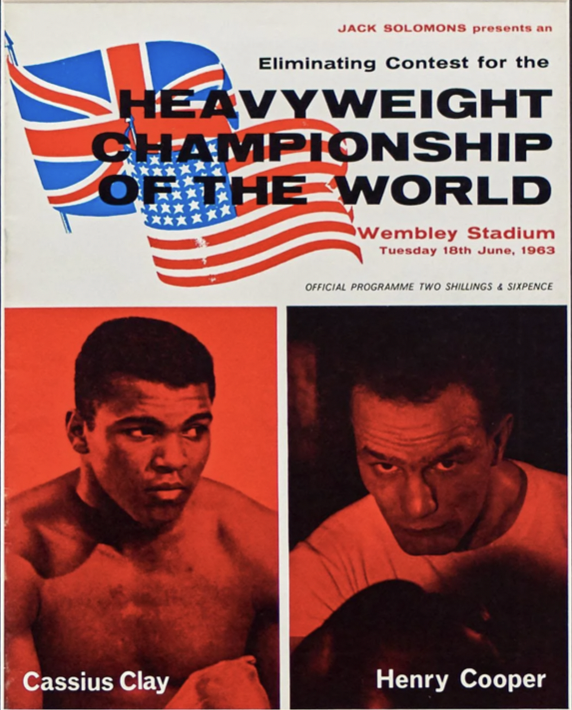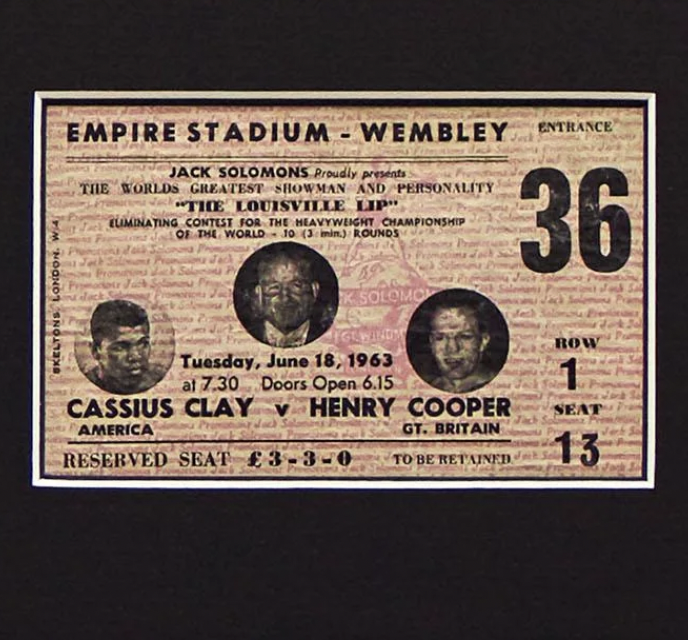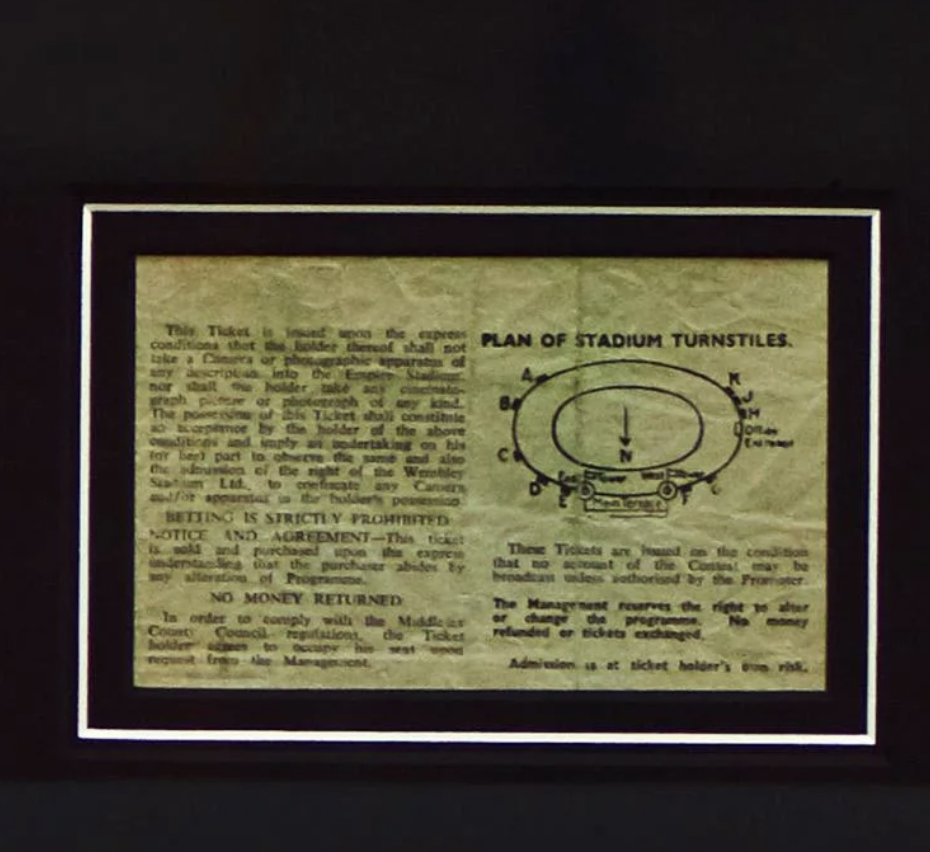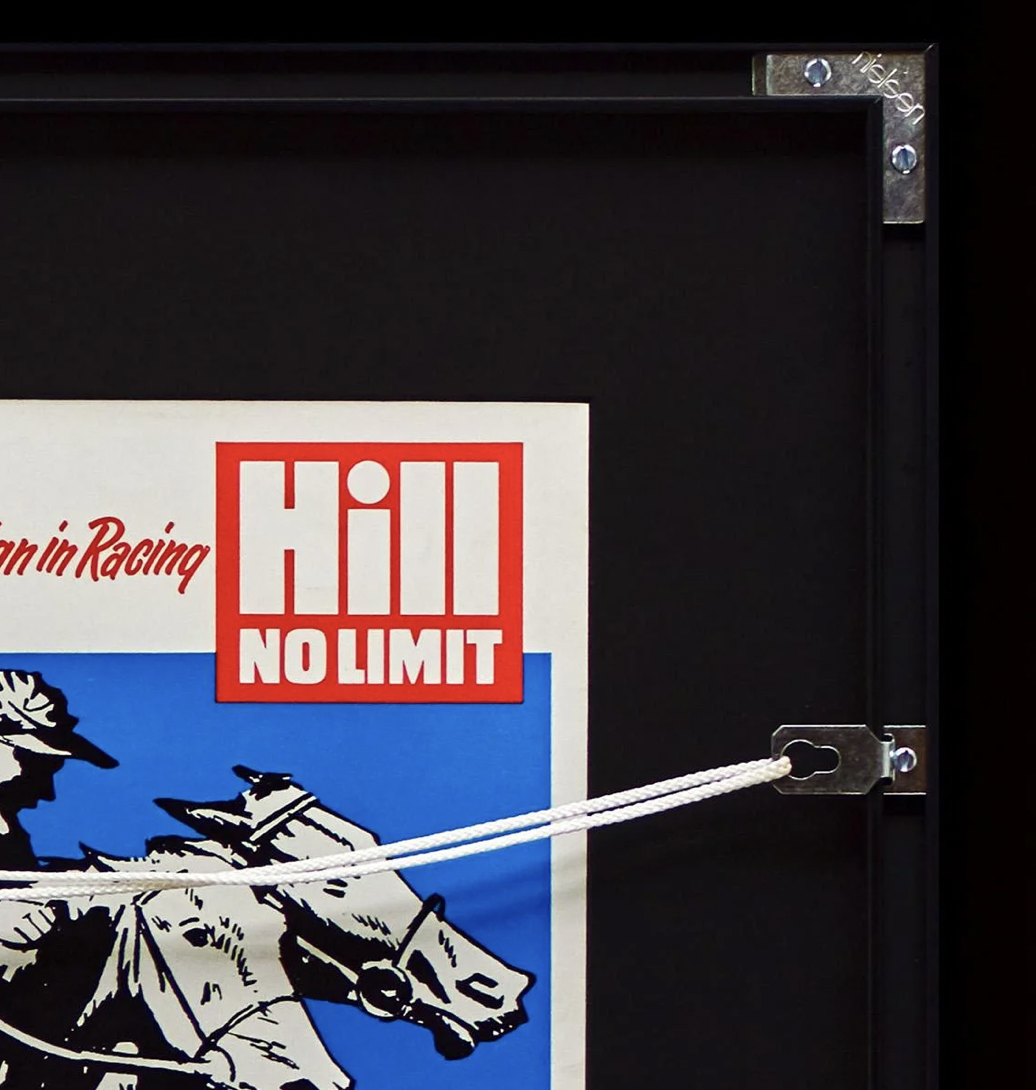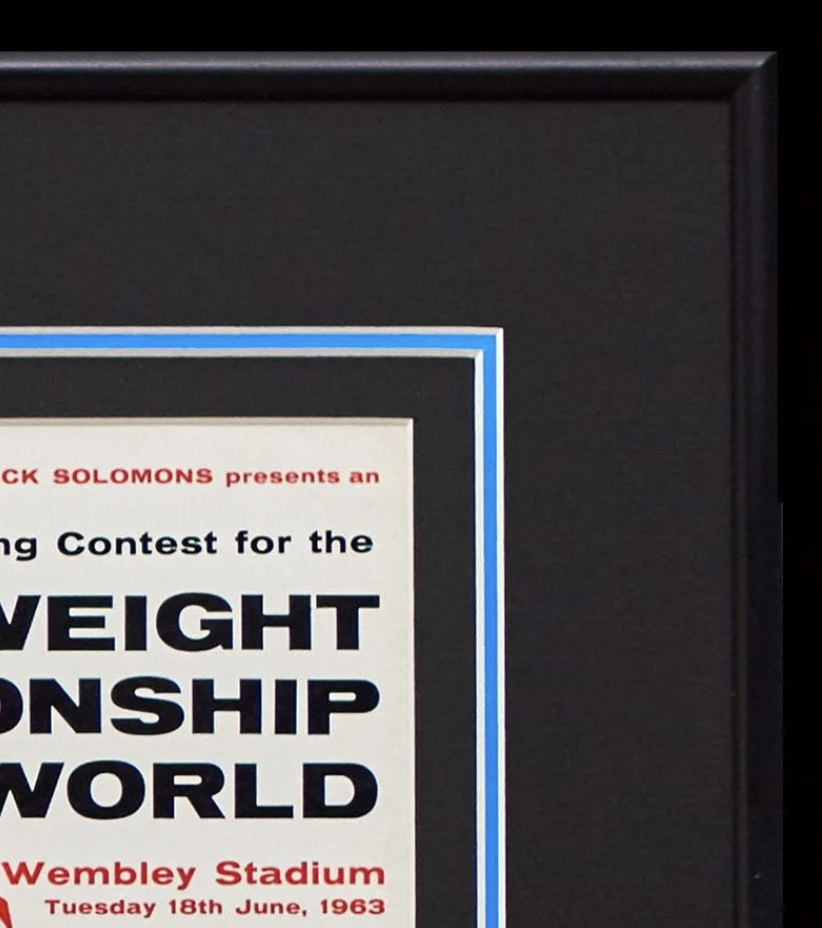 There are no reviews for this product.
Leave a review
Product Description
A striking framed creation to celebrate Cassius Clay's historic first fight with British boxing hero, Henry Cooper. This highly collectable presentation features an original stub-less ticket and an official on-site fight program for the event, which took place on 18th June, 1963, at Wembley Stadium, London. it is believed that there are very few of these event tickets, which measure 12cm x 8cm (4 5/8" x 3"), left in existence.
The program measures 27cm x 21cm (10 1/2" x 8 1/4") and celebrates Cassius Clay's 19th professional fight against Henry Cooper. Much to everyone's astonishment, Cooper landed "Enry's Ammer", a signature vicious left hook, sending Clay to the canvas. Clay, later Muhammad Ali, was only knocked down four times in his professional career. Sadly, for British boxing fans, Clay would go on to win the fight by technical knockout in the fifth round; thus advancing his professional record to 19-0.
Reflecting on Cooper's celebrated punch, Ali famously quipped: "the punch Cooper hit me with, he didn't just shake me. He shook my relations back in Africa."
The collectibles have been professionally framed behind clear colour 'water-white' anti-reflective glass and remain in very good vintage condition. The back of the frame also incorporates clear glass to showcase the reverse of the fight ticket and programme.
This item comes with a Certificate of Authenticity.
There are no reviews for this product.
Leave a review
Additional Information
Product Data

Framed: 19.25 H x 14 W x 1.25 D inches (49 x 35 x 3 cm) Matt black alloy

Cat. No: KM0619

More Information

For many fans, Cassius Clay's victory over Henry Cooper in 1963 is not without controversy. After the knockdown, Clay's coach, Angelo Dundee, helped Clay to his corner after the bell rang in contravention of the rules. He also administered 'smelling salts' to his beleaguered fighter, as he was sitting in the corner - a second contravention of British boxing rules which forbid the administration of stimulants. With stricter adjudication, Clay could have well been disqualified; thus handing the victory to Cooper...
Why not recommend this product to a friend…
You will receive 10 Reward Points for every £1.00 your friend spends on their initial order.
Your friend will also receive a 5% discount off their first order.
LOGIN TO REFER YOUR FRIEND