Allen Joe and Bruce Lee – A Life-Defining Friendship
If you want to enjoy a great read about Allen Joe – the man who profoundly influenced Bruce Lee's physical development and refined his expression of impact-posing – this fantastic book by Svetlana Kim and Dmitri Bobkov really delivers!
Written in a warm, articulate and insightful style and packed with content drawn from personal interviews with Allen and Annie Joe, this compelling volume highlights an era in Bruce Lee's developmental history, which is often sadly overlooked by the mainstream media.
Allen and Bruce enjoyed a rich and mutually transformative friendship from their first meeting in the 1959, until Bruce's untimely passing on July 20th, 1973. Read about their triumphs and tribulations during a period in U.S. history, when racial prejudice against those of Chinese and Japanese heritage was a national obsession. Both men elected to rise above the hatred and pursued a path of excellence, whilst adhering to the principles of tolerance, acceptance and racial agnosticism- a lesson which is still as relevant and topical today, as it was when this great friendship was formed…
Pick up your copy now in hardcover, softcover and Kindle editions on Amazon and as an audiobook on Apple iBooks.
Also, look out for the forthcoming documentary produced by Svetlana, Dmitri and Bruce Lee historian, David Tadman, which is based on the book and details Allen Joe's iconic friendship with our favourite martial arts master, Bruce Lee.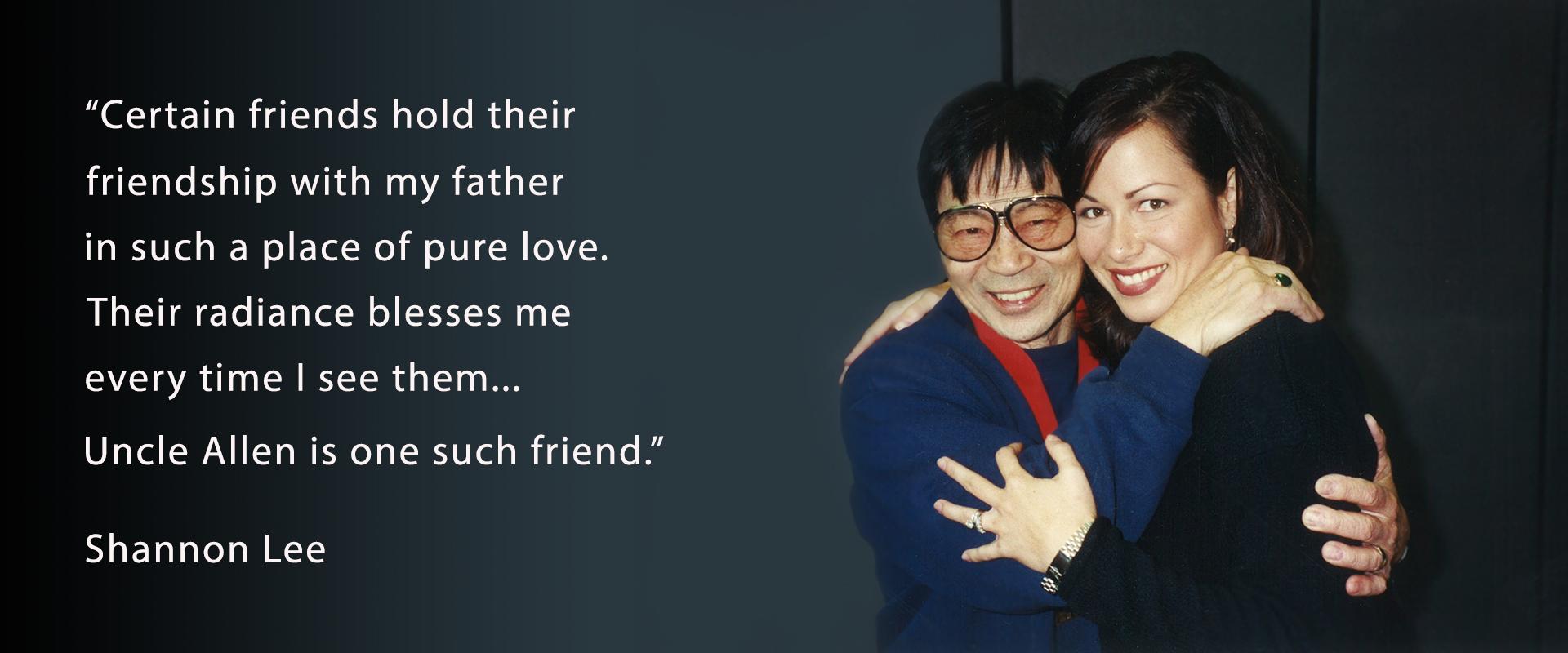 More about the author:
Svetlana Kim, Speaker, Author of White Pearl and I: A Memoir of a Political Refugee, Productivity Expert, Consultant, and Community Advocate. She is a host of the Radio Talk Show called "To The Stars Through Adversity."
Kim was selected to be a Spokesperson for the 2011 Macy's Asian Pacific American Heritage Month. On May 11, 2009, Svetlana was recognised with the the Daily Point of Light Award (Award Number: 3983) by Points of Light Institute created by the administration of President George H.B. Bush to honour individuals creating meaningful change in communities across America.
Kim has been featured and profiled in The New York Times, The Wall Street Journal, The Washington Post, MSN Money, MSNBC, Women's Life magazine in Seoul, Korea; the Asian Fortune; Networking Times; NASDAQ's Closing Bell; and The Gazette, a publication of the Library of Congress.
Svetlana's story has been profiled in a book called "Go-Givers Sell More" (Chapter 8, People), International Bestseller by Bob Burg and John David Mann. Simon T Bailey shares Svetlana's story in his bestselling book titled "Shift Your Brilliance." (SoundWisdom, 2014).
Committed to giving back to her local and worldwide community, Kim has donated over 180 hours to the Calvary Women's Services in Chinatown in Washington, D.C. Additionally, she volunteered at the Office of Presidential Correspondence in the White House.
Svetlana is married and resides in the San Francisco Bay Area with her husband, Dmitri.