Star Trek Into Darkness - Klingon Guard Uniform with Disruptor
Star Trek Into Darkness - Klingon Guard Uniform with Disruptor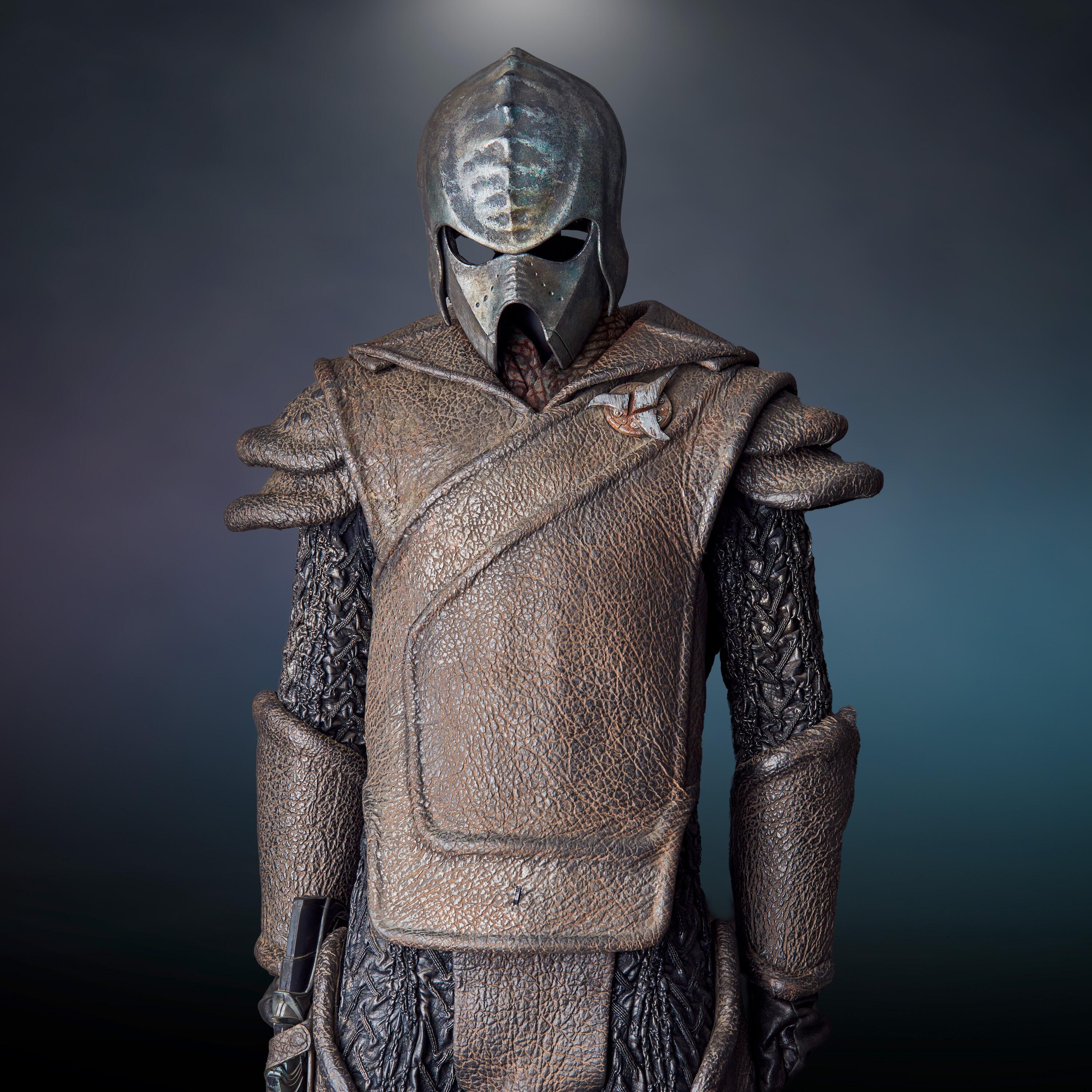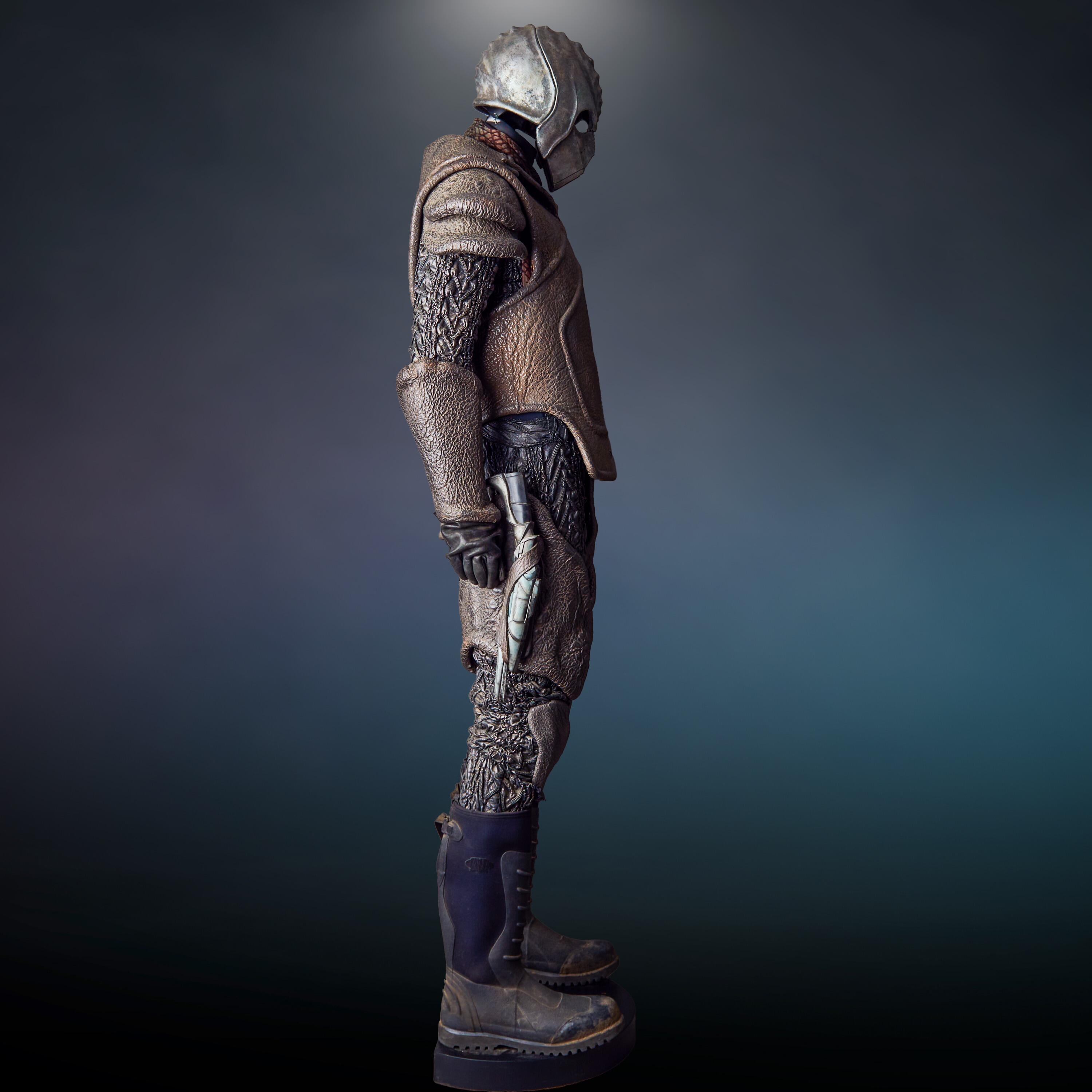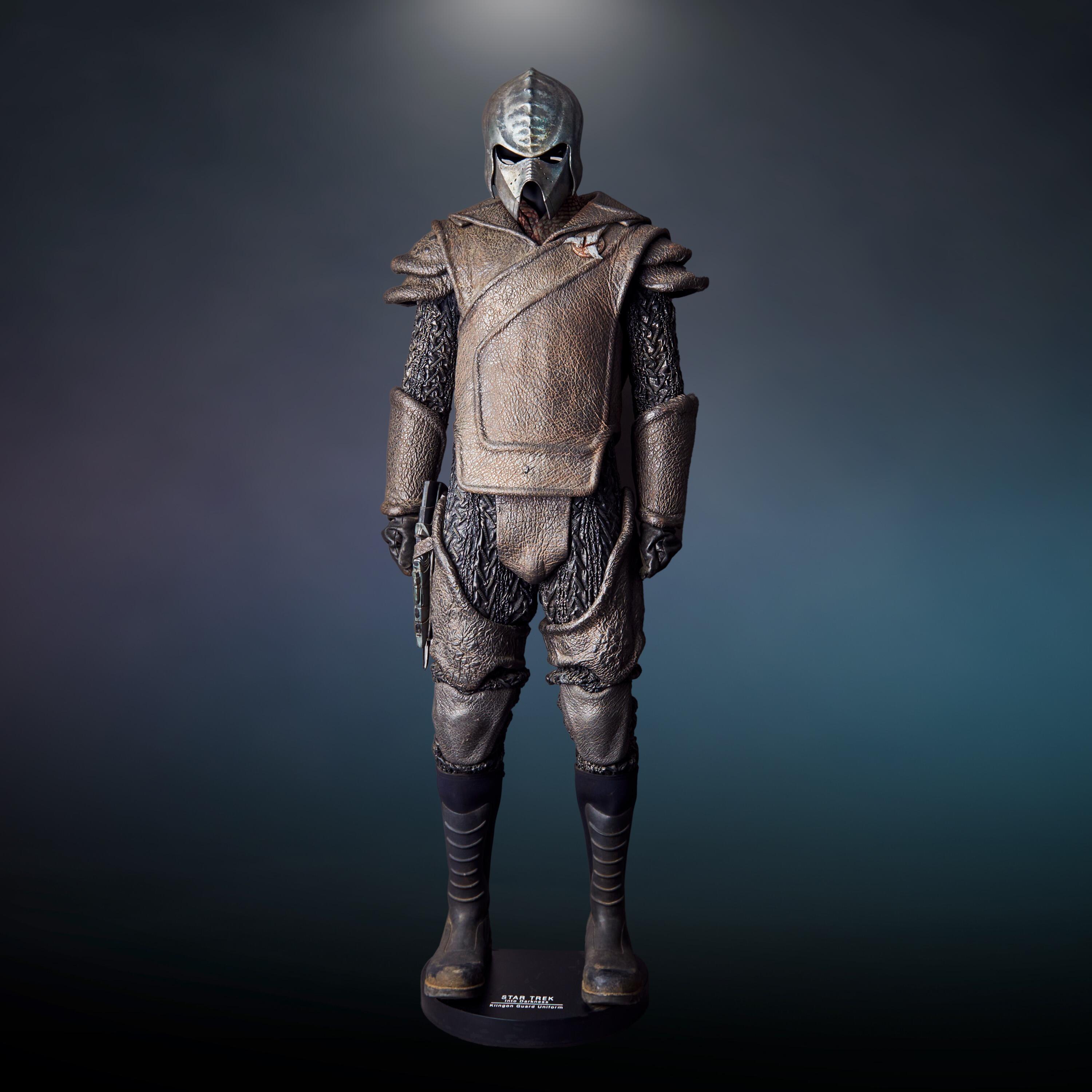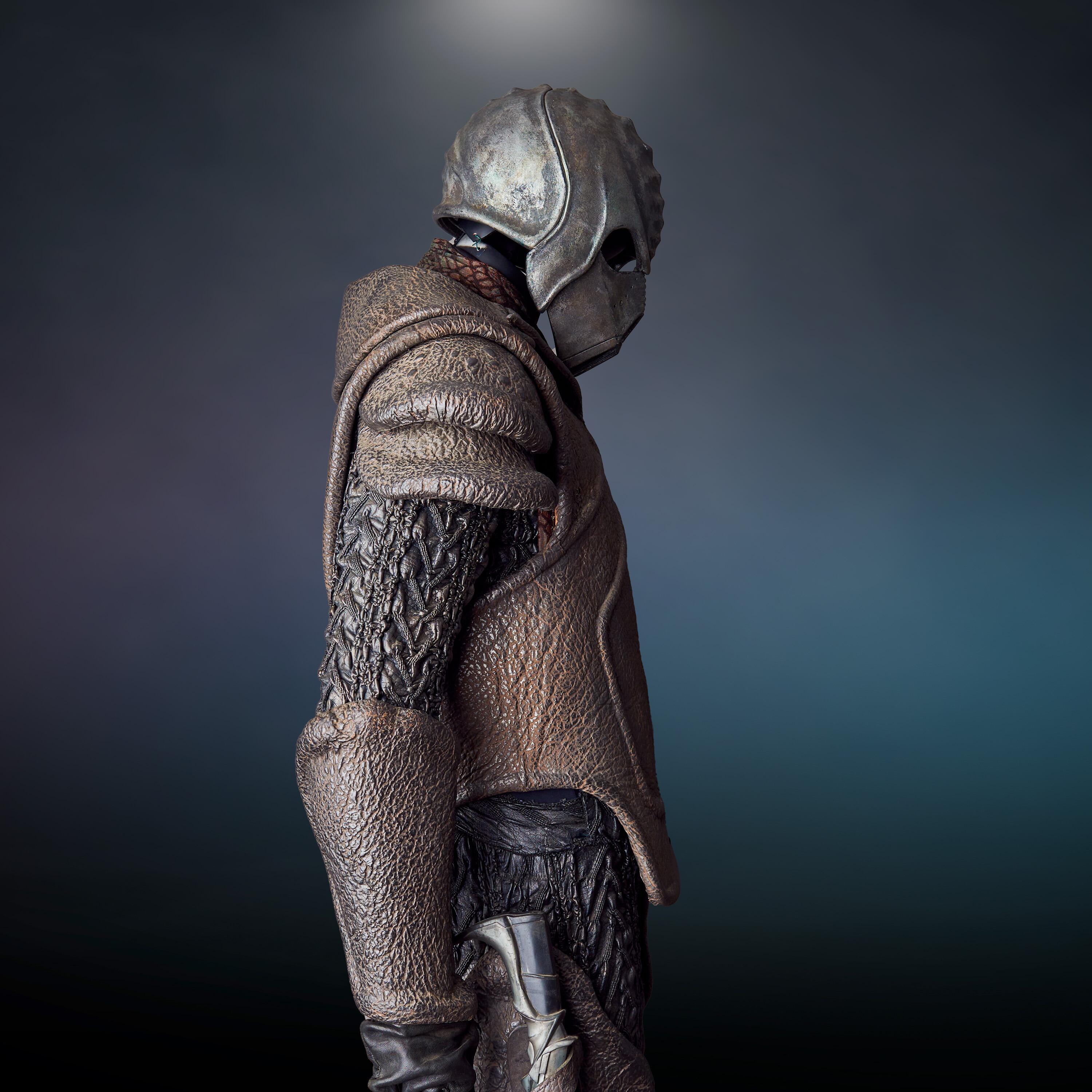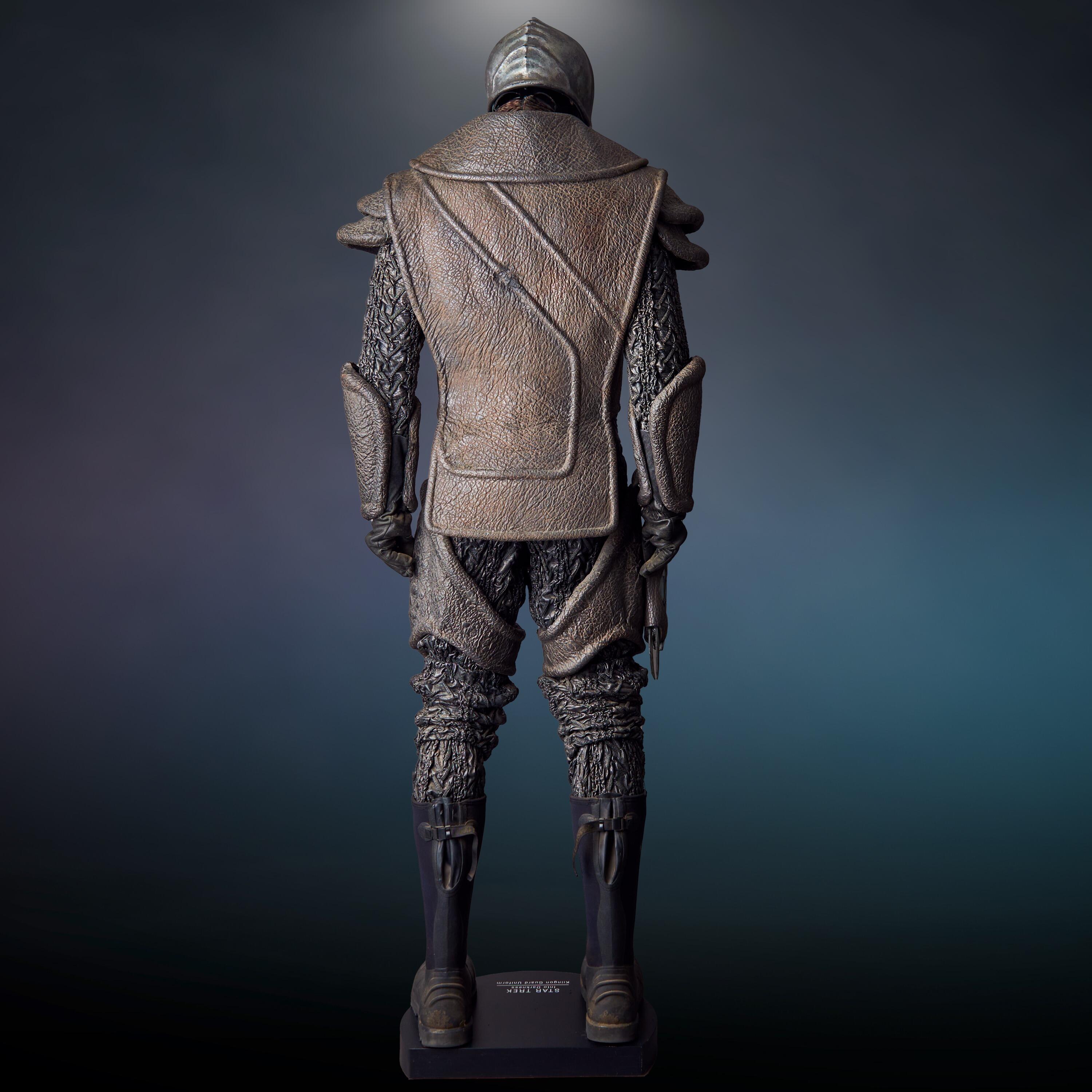 There are no reviews for this product.
Leave a review
Product Description
A stunning and beautifully articulated full Klingon guard uniform and disruptor from 'Star Trek Into Darkness'. 
The costume consists of chest armour, shoulder guards with an elastic harness, a scarf, a long-sleeved shirt (extra large), an undershirt (extra large), a pair of gloves, arm bracers, a codpiece, pants (approximate size 28), thigh guards, kneepads, a helmet, a Klingon disruptor and a pair of boots (marked U.S. size 15).
In 'Star Trek Into Darkness', the Klingon guards wore this battle uniform in the memorable sequence, when Khan ambushed them and the Enterprise crew on Kronos. This particular costume was worn by prolific actor / stunt-performer, Richard Cetrone, Cetrone stands 6ft 3ins (1.91m) tall and has also appeared in such blockbusters as 'Bullet train', 'Justice League', 'Wonder Woman' and "Batman v Superman: Dawn of Justice', where he performed as Ben Affleck's stunt-double. On streaming platforms, his work includes 'The Mandalorian', 'The Book of Boba Fett' and 'Triple Frontier'
The chest armour, shoulder guards, thigh guards, kneepads, arm bracers and codpiece are all made of foam and overlaid with china silk and terrycloth - in the faux-leather style -  to mimic animal hides with a scaled texture. The scarf is fashioned from synthetic material and lined with Spandex. The long-sleeved shirt is a black Spandex sports-shirt embellished with glossy, textured sleeves made of faux-leather. The trousers or pants are constructed from the same textured synthetic material and feature black nylon suspenders. The undershirt is made from black Spandex, and the gloves are fashioned in black leather and suede. The contoured helmet with face-guard is made from dense urethane and finished in metallic grey and silver. Finally, the boots are constructed from black neoprene and rubber and distressed with dirt for authenticity. The iconic Klingon disruptor is made from foam urethane and  painted in metallic shades of silver . 

The costume features hand-written wardrobe labels in the long-sleeved shirt, undershirt, scarf, arm bracers, codpiece, pants, thigh guards, kneepads and helmet marked with the actor's name. Also included are wardrobe tags with hand-written notes about the costumes.
This item comes with a Certificate of Authenticity. Mannequin and stand included.
There are no reviews for this product.
Leave a review
Additional Information
Product Data
More Information

'Star Trek Into Darkness' was shot at different locations in Los Angeles, including Sony Pictures Studios in Culver City, Paramount Studios in Hollywood, The Lawrence Livermore National Laboratory, The Crystal Cathedral in Garden Grove and The Greystone Mansion in Beverly Hills. Additional sequences were filmed in Iceland.
Why not recommend this product to a friend…
You will receive 10 Reward Points for every £1.00 your friend spends on their initial order.
Your friend will also receive a 5% discount off their first order.
LOGIN TO REFER YOUR FRIEND